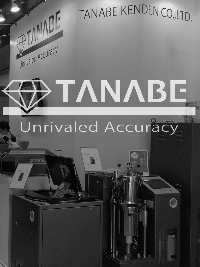 At Tanabe Kenden,
you will never feel like a cog in a big machine.
You will be a pioneer, using all your skills in many new ways.
Your flexibility and hard work will be respected.

Come work with us.
Positions available

-Sales representatives -Service engineers

Nature of work

-Sales representatives Selling of jewelry-making machinery

-Service engineers
Assembly, installation, maintenance, sales support of our equipment

What we need

Men or women 35 years old or younger, able to speak and read Japanese with a driver's license valid in Japan and able to use Microsoft Office.

Helpful skills

-Sales experience (in any field) -Experience working with assembly of machines
-Interest in the jewelry industry
-Ability to speak English in business
-Experience with web design or graphic design

Positions offered

-Full time, part time (first three months will be probationary)

Working hours

-9:00 AM to 6:00 PM (extra work sometimes required)

-Two days off a week Paid vacation days, other benefits apply

Location

-Setagaya ward, Tokyo

Remuneration

-Will be decided based on skills and experience.

Benefits

-Eligible for raise once a year -Standard Japanese insurance benefits
-Bonuses paid twice a year (depending on business condition)
-Commuting expenses paid monthly up to 30,000 yen a month

How to apply

1.First, contact us from here.

2.Send your cover letter and resume to the following address:

TANABE KENDEN
1-9-14 Fukasawa Setagaya-ku, Tokyo
158-0081 JAPAN

3After we receive your documents, we will contact you for an interview.
*Please be aware that we are unable to return documents you send to us.
Any documents sent to us will be appropriately handled in accordance with the regulations of the Personal Information Protections laws of Japan.